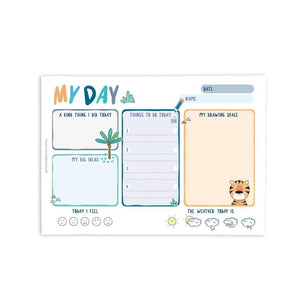 The My Day planner notepad is a great way for kids to pause and think about their day.
The planner encourages them to record parts of their day including a to do list, how they're feeling, the weather and acts of kindness.
5 science-backed reasons why kids should plan;
To develop time management skills

It helps kids become more motivated & focused

It reduces stress

More time for creative activities

It becomes a healthy habit!
Parents will love how the planner helps kids improve executive functions like planning, organisation, problem-solving & time-management!
Recommended for kids aged 5 and up.
50 sheets per notepad
A5 size (148mm x 210mm) 
Designed by Sprout and Sparrow and printed in Australia