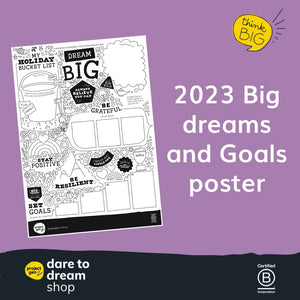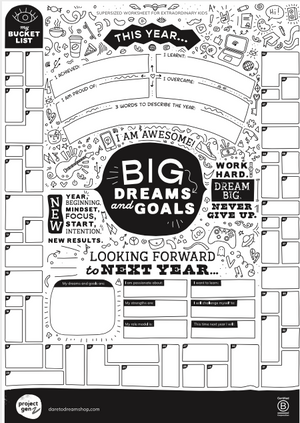 Our giant supersize Goals & Dreams activity sheet is the one thing EVERYONE should have!
This huge activity sheet takes kids, teens, and even adults, through some step by step goal setting activities to give you the best chance of an awesome year.
You will;
Reflect on the year... what have you achieved?  What are you proud of? What did you learn?
Spend time thinking about your future.. what would you like to achieve tin 2023?  What are your dreams and goals?
Create a bucket List - you will think of 50 AWESOME things you want to do next year.  Think holidays, trips, new experiences, fun activities and more!
To support you on your goal setting journey, the poster is FULL of positive & inspirational illustrations, so while you are dreaming BIG you can mindfully colour! 
Once it's complete, make sure you proudly stick your poster in a place you can see it so you can look at your big dreams everyday... Your very own vision & dream board!
Did you know that if you look at your goals & dreams every day you are more likely to achieve them?
This is the perfect gift for all!!

Size: A1