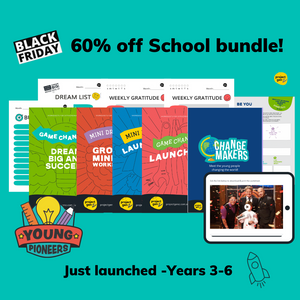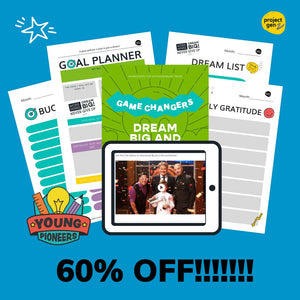 OVER 100 HOURS OF LESSONS- OVER 60% OFF

NEVER BEEN DONE BEFORE..we have bundled together 6 of our most popular teacher led programs to give primary schools access to our some seriously inspiring & educational future skills content!

Years 3-6
BUNDLE INCLUDES....

Founder term long entrepreneurial program worth $899- A 9 week fun and exciting business challenge
Changemaker worth $199- Meet the young people changing the world
Young Pioneers worth $199-An interview series with 10 young entrepreneurs
Launchpad worth $19.99- A kids guide to start a business
Money and Me worth $19.99- Financial literacy for kids
Mini Dreamers Growth mindset worth $19.99- Learn to dream big and succeed
All of these programs are digital and downloadable so you get instant access! 
Worth $1357- OVER 60% OFF
Now only $499!!
"I love the range of Project Gen Z teacher led resources. My students have found them fun, engaging, challenging and they have been asking for more!" 
-Geraldine Harper, Yr 6
Programs include;
- Videos, worksheets, lesson plans, and digital workbooks that are printable.
- To request an invoice please email: info@projectgenz.com.au
- Please reach out if you have any questions