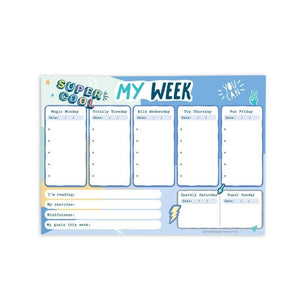 The My week planner notepad is a great way for kids to record their weekly activities, from Magic Monday right through to Super Sunday! 
There's also space for kids to record the book they're reading, this week's mindfulness activities and the exercise they plan to do. Kids can also set a goal for the week.
5 science-backed reasons why kids should plan;
To develop time management skills

It helps kids become more motivated & focused

It reduces stress

More time for creative activities

It becomes a healthy habit!
Parents will love how the planner helps kids improve executive functions like planning, organisation, problem-solving & time-management!
Recommended for kids aged 7 and up.
50 sheets per notepad
A5 size (148mm x 210mm)