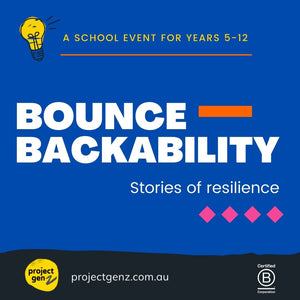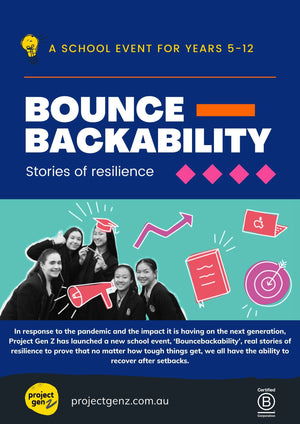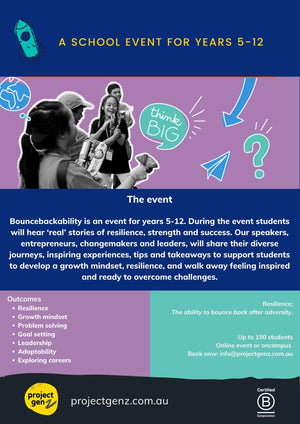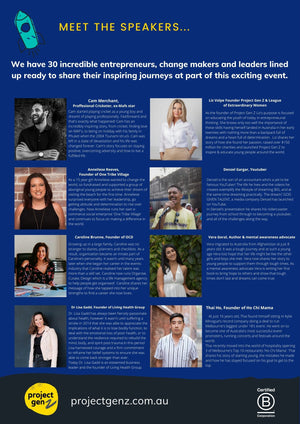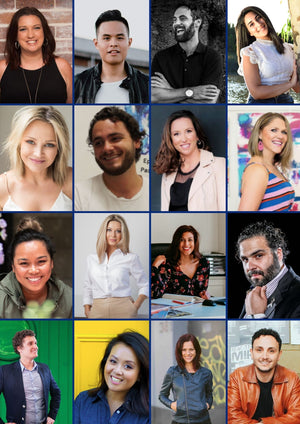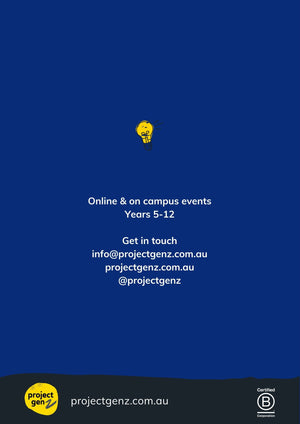 Bouncebackability- Stories of resilience
In response to the pandemic and the impact it is having on the next generation, Project Gen Z has launched a new school event, 'Bouncebackability', real stories of resilience to prove that no matter how tough things get, we all have the ability to recover after setbacks.
Bouncebackability is an event for years 5-12.  During the event students will hear 'real' stories of resilience, strength and success.  Our speakers, who are entrepreneurs, changemakers and leaders will share their diverse journeys, inspiring experiences, tips and takeaways to support students to develop a growth mindset, resilience, and walk away feeling inspired to overcome challenges.
Outcomes
Resilience

Growth mindset

Problem solving

Goal setting

Leadership

Adaptability

Exploring careers
​
About Bounce
Suitable for years 5- 12

1 hour event includes 2 speakers, or 1.5 hour event includes 3 speakers.

Virtual event for up to 200 students (for on campus workshops head to projectgenz.com.au)

Once you have purchased Bounce we will reach out to secure a date and time for your workshop and organise all booking details. (You have 12 months from purchase to confirm a date)

If you would prefer an invoice or if you have any questions please email info@projectgenz.com.au
"Amazing stories from Amazing people. Stories were real and were personal which enabled the students to connect." Educator, Ambarvale High School. 
"Bounce taught me to continue to persevere even when things are difficult." Year 7 student
Project Gen Z is a social enterprise and exists to make a difference. Our team of inspiring entrepreneurs & changemakers have delivered school workshops to over 30,000 young people.
We have been rated 5* by teachers & students.