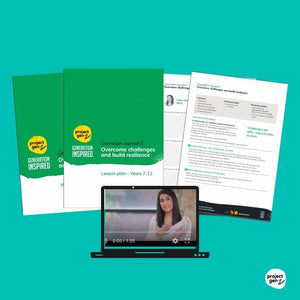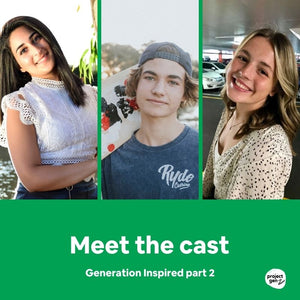 Project Gen Z are excited to launch a new DIY teacher led program and virtual screening kit to support your students to overcome obstacles and build resilience.
Generation Inspired 2 is short film that follows the journey of three inspirational young aussies that have overcome huge obstacles to prove that anything is possible. 

"Discover the awe inspiring stories of Luka Angel, Nathan, and Vera. Three young change makers who have traversed through some of life's most challenging turning points to adapt, evolve and ignite heart centered and purposeful lives." -Rebecca Tapp, CEO Future Crunch
What the kit includes;
Screening licence for Generation Inspired part 2
Access to 40 min documentary
Gen Inspired DIY teacher led program which is made up of 4 lessons that can be used before and after the screening to explore resilience and overcoming obstacles.
 Outcomes;
Resilience 
Confidence and self belief
Exploring career pathways
Mental health and wellbeing
Problem solving and overcoming adversity
Adaptability
Leadership
"An uplifting piece that inspires and warms the heart. A must watch for young adults exploring their passion and place in the world." -Sheryl Thai, Founder League of Extraordinary Women
$149.99
FAQ's
Best suited for ages 12+
For any questions related to this program, or to organise an invoice please contact us on: info@projectgenz.com.au
WARNING:  This film covers content such as suicide and mental health challenges which may be disturbing to some viewers.